Results: Client Success Stories
27 pounds and 11% body fat lost!
Shana is motivated to stay healthy and avoid future health complications. Shana is a perfect example of trusting the process. After losing 2 pounds during the first month of training, Shana decided to take things to the next level and drop 8 pounds and 5% body fat during the second month of training. Your hard work is inspiring Shana! Keep improving!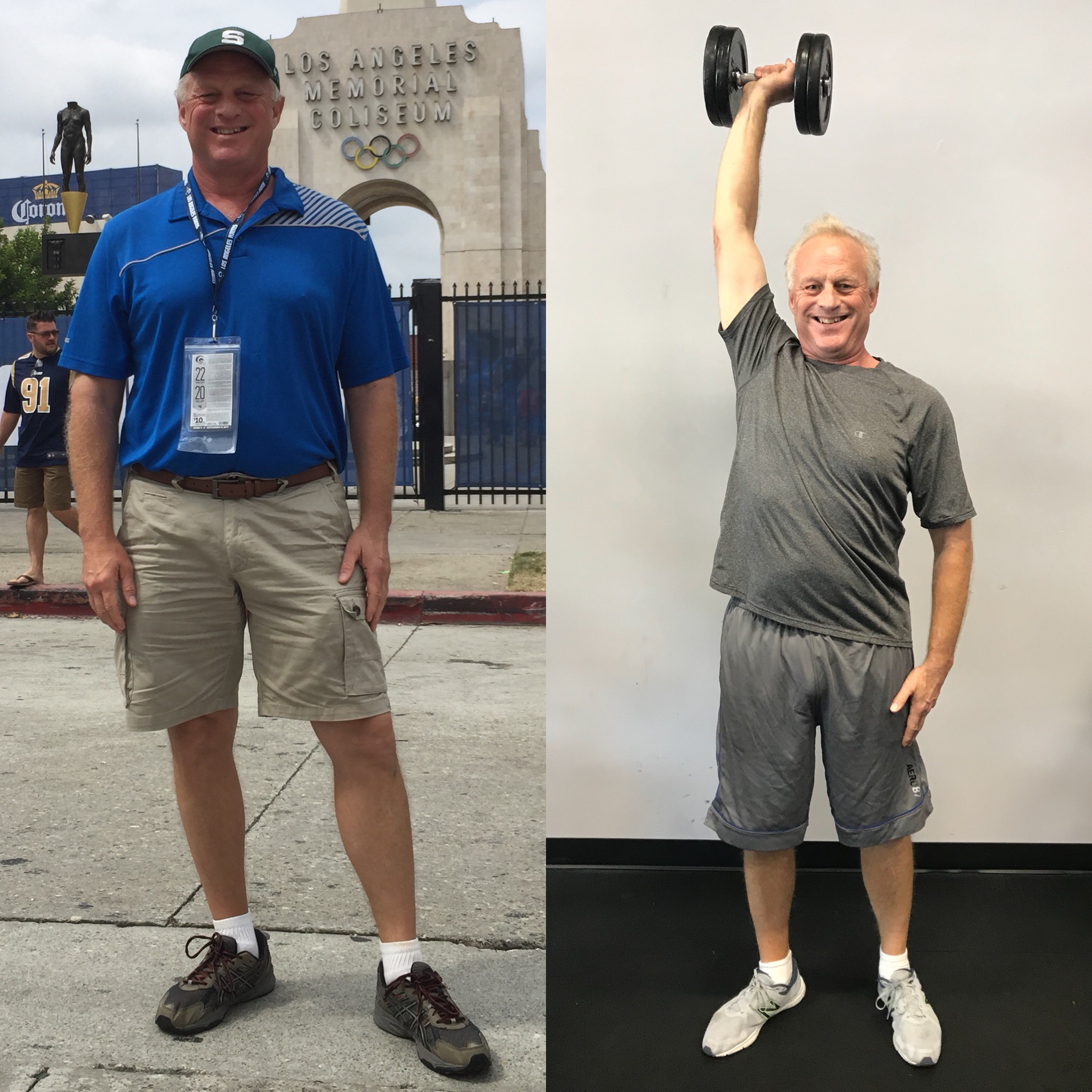 35 Pounds and 10% body fat Lost
Dave is a character. He hails from Detroit, Michigan and is still adapting to the california lifestyle. He makes sure to remind me daily that he is in charge as he pours sweat and obeys my orders. it is always a joy to see each piece of the process come together full circle. Dave began with a regular exercise routine but quickly realized that to maximize his efforts, his diet had to change. Dave's beliefs, focus, and lifestyle have all changed in the past year and i am excited to be a witness to the many changes that await. Dave, you are the boss!
35 Pounds and 10% Body fat lost!
When I first met Rhoda, she explained that she was concerned with the effect that retirement was having on her physical health. After explaining that an active lifestyle and regular exercise could greatly improve her daily life, rhoda decided to give it a try. Today she is maintaining 20 pounds of weight loss and improved lean muscle mass. Rhoda preaches the importance of movement to her friends and family. It is a blessing to see this knowledge being put into action. Congratulations Rhoda! You deserve it!
19 Pounds and 10% body fat lost!
Patrick has been working with me for well over a year now. This guy craves intensity and lives for the challenge. Today he walks around with his head held high and will proudly tell you that he is currently in the best shape of his life. He is motivated by being a great example to his two children. His oldest Samantha can not wait until she is, "old enough to go to the gym with daddy." This is what fitness is all about. Motivating others by being a living example. Keep showing those kids what Dad is made of Patrick!
22 Pounds and 11% body fat lost!
Upon meeting Rose, she explained that she used to be a dance instructor and was looking to regain the strength and energy level that she once had. After losing both weight and body fat, rose says she feels better than she has felt in years. Rose is relentless to not allow age or health complications to slow her down. She is walking proof that age is not a factor. Keep fighting Rose!
Lost 20 pounds and 9% Body Fat!
Jean's story is close to my heart. The first day we met, Jean was ready to cancel her membership at the gym. After years of effort with little result Jean had lost motivation. After a breif discussion, i convinced Jean to sign up for training so that she could reach her goals faster. Jean's mentality completely changed once she saw the pounds begin to fall off. She now enjoys exercise and says that it is a part of her weekly routine. Keep making your goals a reality Jean!
Lost 2.5% body fat in just 4 Weeks!
When i met Lisa she told me that no matter the cost she wanted her summer six pack. Lisa is pushed to her limit every single training session, but she loves it. Lisa's diet and training have been consistent and on point. Great results take hard work, a fact that Lisa has fully embraced. Lisa lives it!
3o Pounds Lost!
In the beginning Teresa "walked" with a cane, and her version of walking did not include lifting her feet fully off the ground. Today Teresa walks upright without a cane and has lost 30 pounds. It is amazing how going back to the basics and focusing on proper movement patterns can help the body function more efficiently. I am proud of Teresa for pushing through the pain!